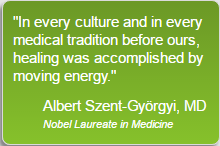 It is wonderful that you are looking to become more vibrant, present and energized and more friendly with your own energy system, you may not recognise right now that that's what brings you here but whatever it is that does bring you here I want you just to know that this very simple routine, when done daily can potentially change many things for you
that you may not even be able to imagine for yourself right now.
Just for your information, this energy routine comes from a well-known healing modality called Energy Medicine which I am currently a student of, it is very well documented and there are many videos on youtube with the world-renowned Donna Eden founder of Energy Medicine.
I personally use this routine every day with some extra one I have learned and I can honestly say that I have great success using this approach with my clients alongside my bodywork and healing practice.
I am very confident that this routine alone will bring about great changes for you and if you require any more help or wish to go deeper with anything you have going on right now please feel free to make contact with me.
I hope you enjoy it and try your very best to make it part of your everyday habit.
CLICK HERE TO WATCH THE 5 MINUTE ENERGY ROUTINE
This next technique is profound and simple and takes a couple of minutes to perform and it basically Balances out the brain and maximising its function.
This can help with. relieving the feeling of stress and tension by calming the brain down, it creates a balance between the left and right hemispheres of the brain, restores memory function, helps with poor sleep and many more as you will see described here.